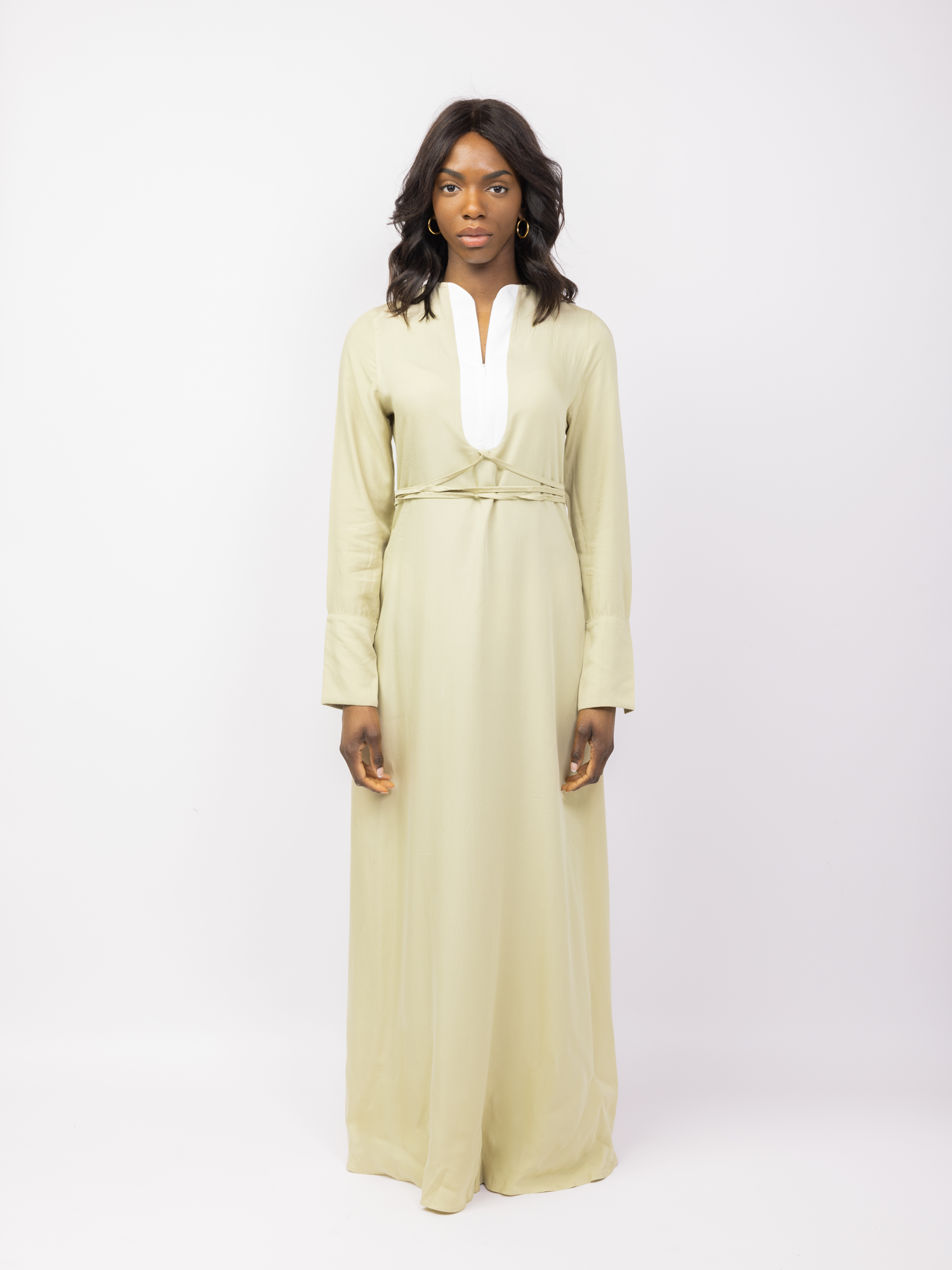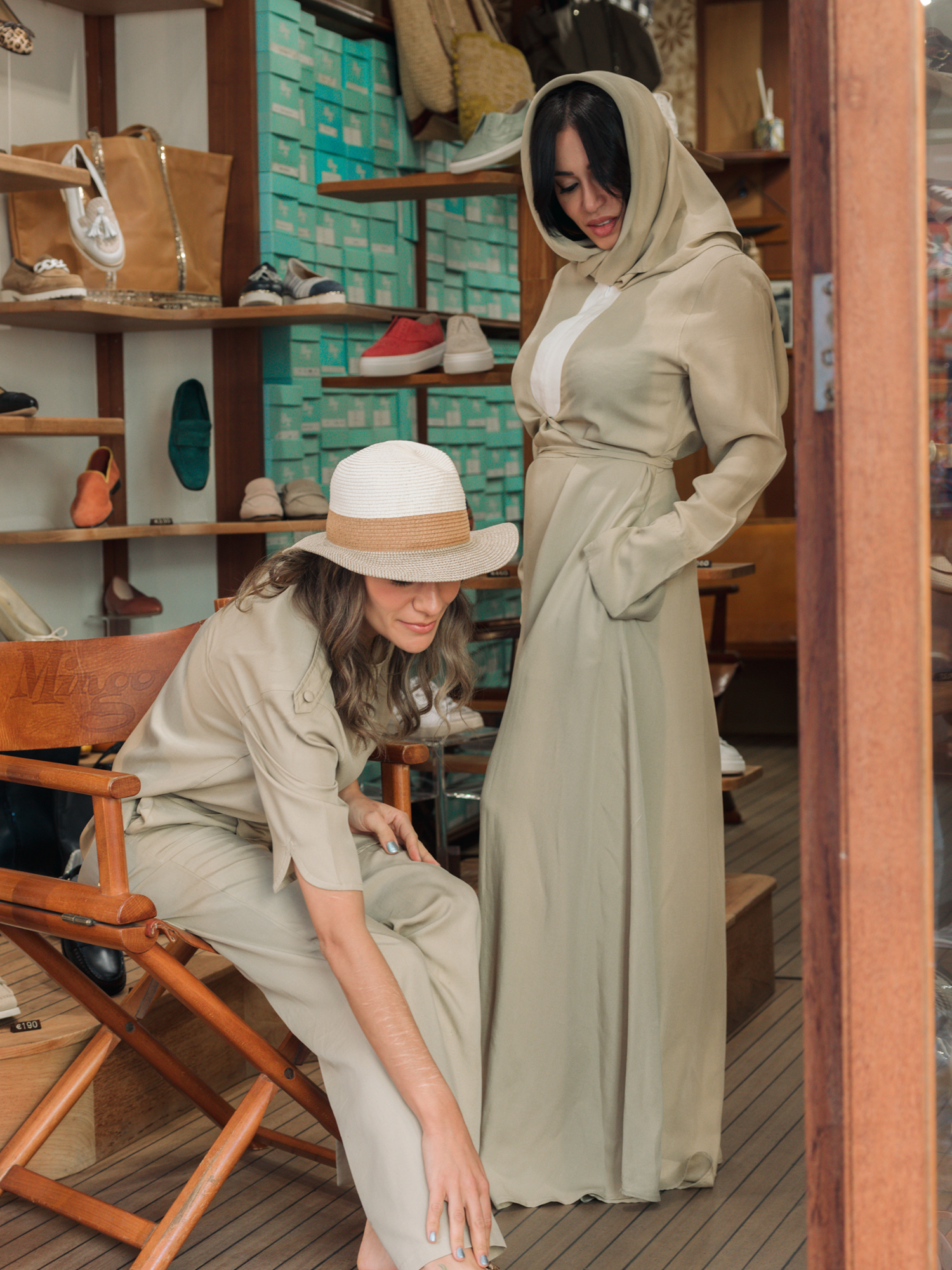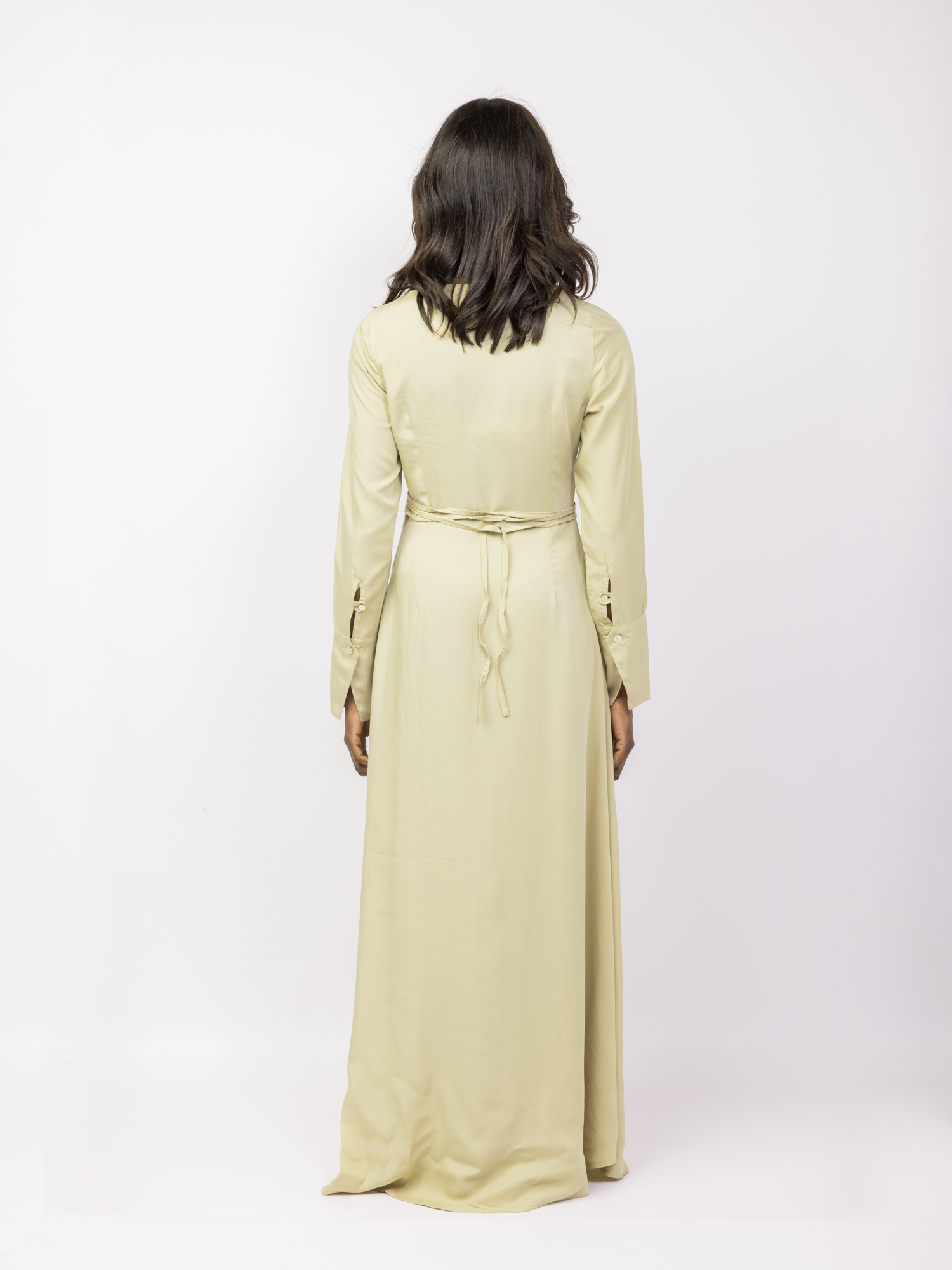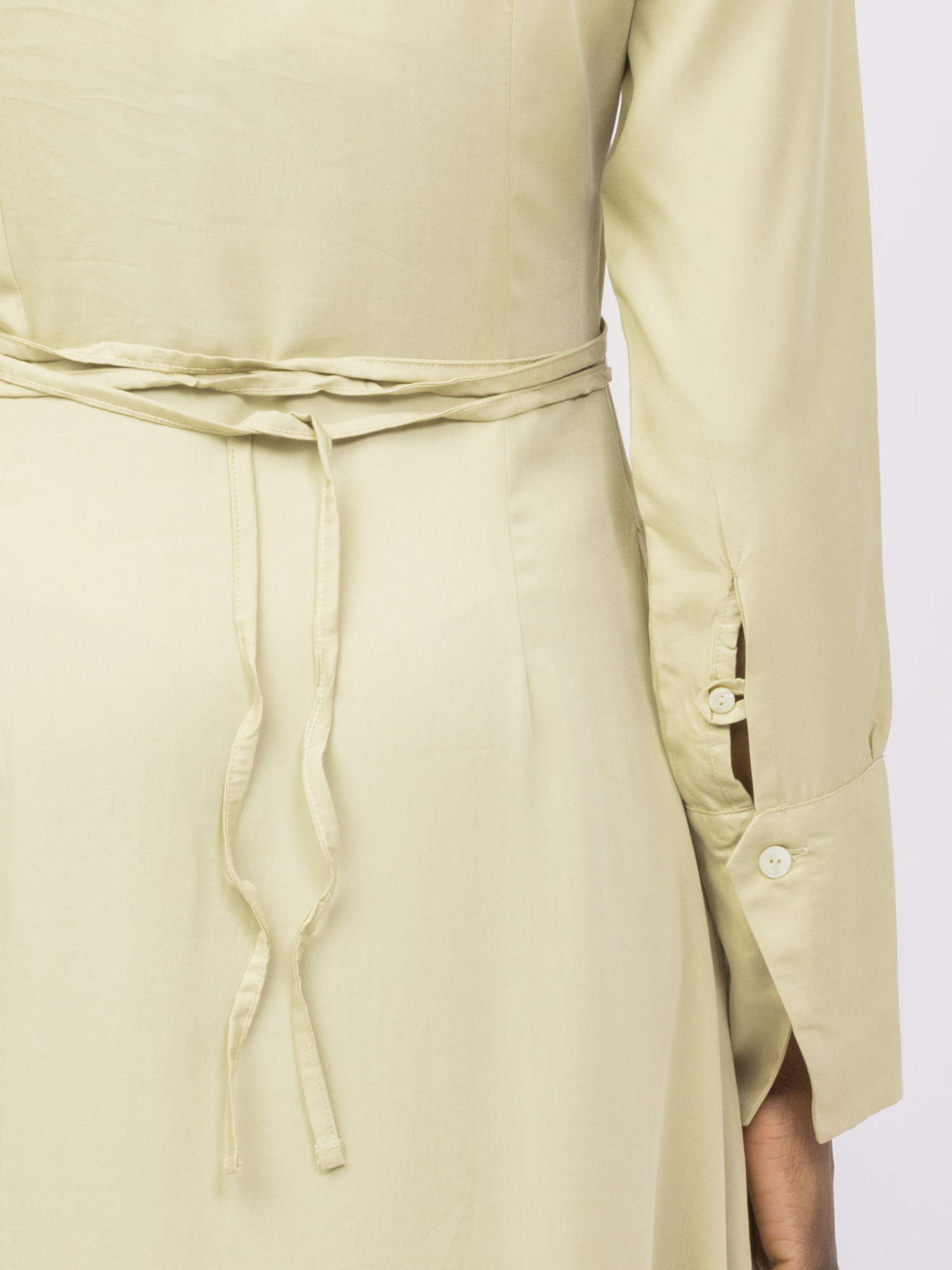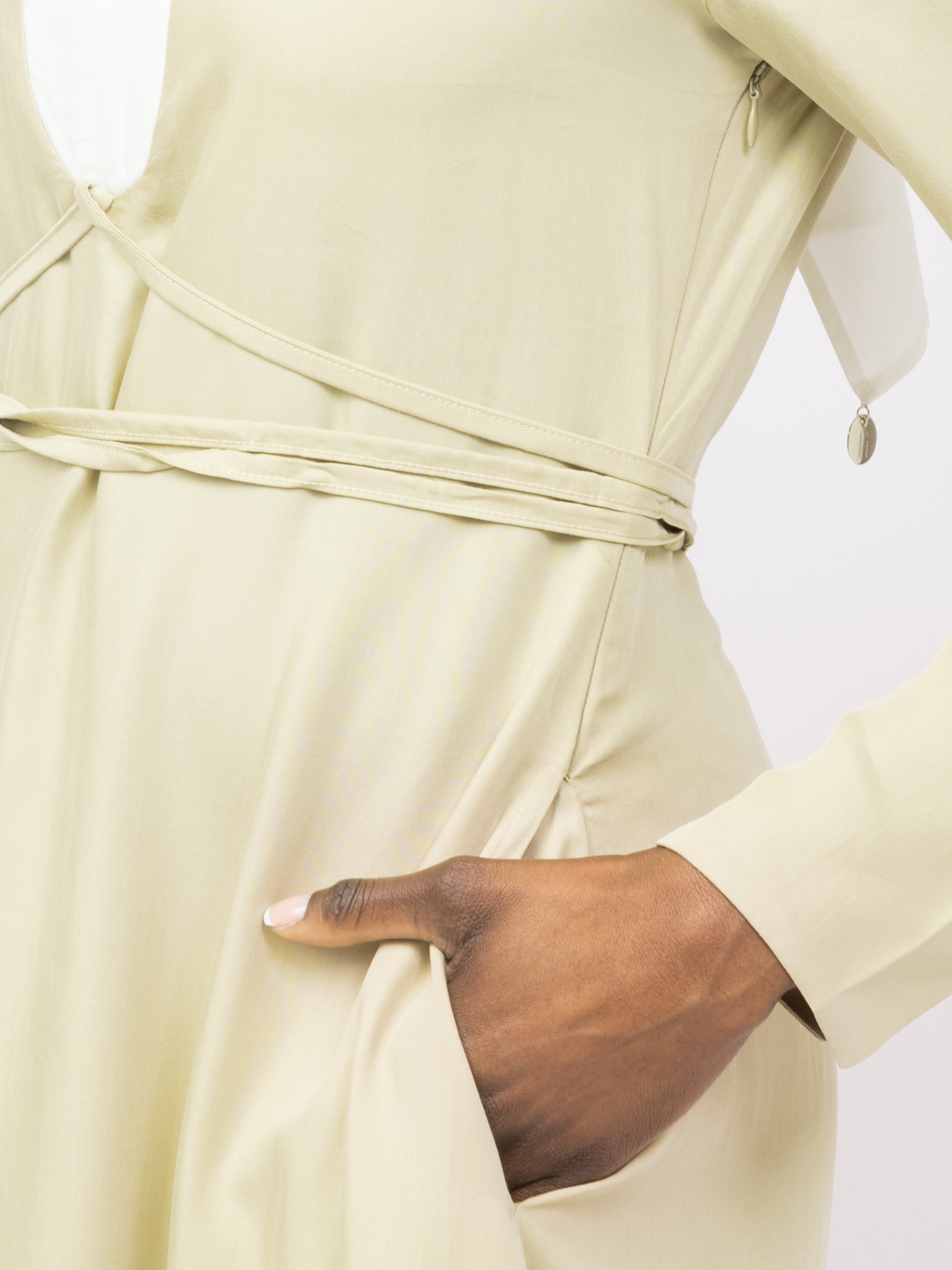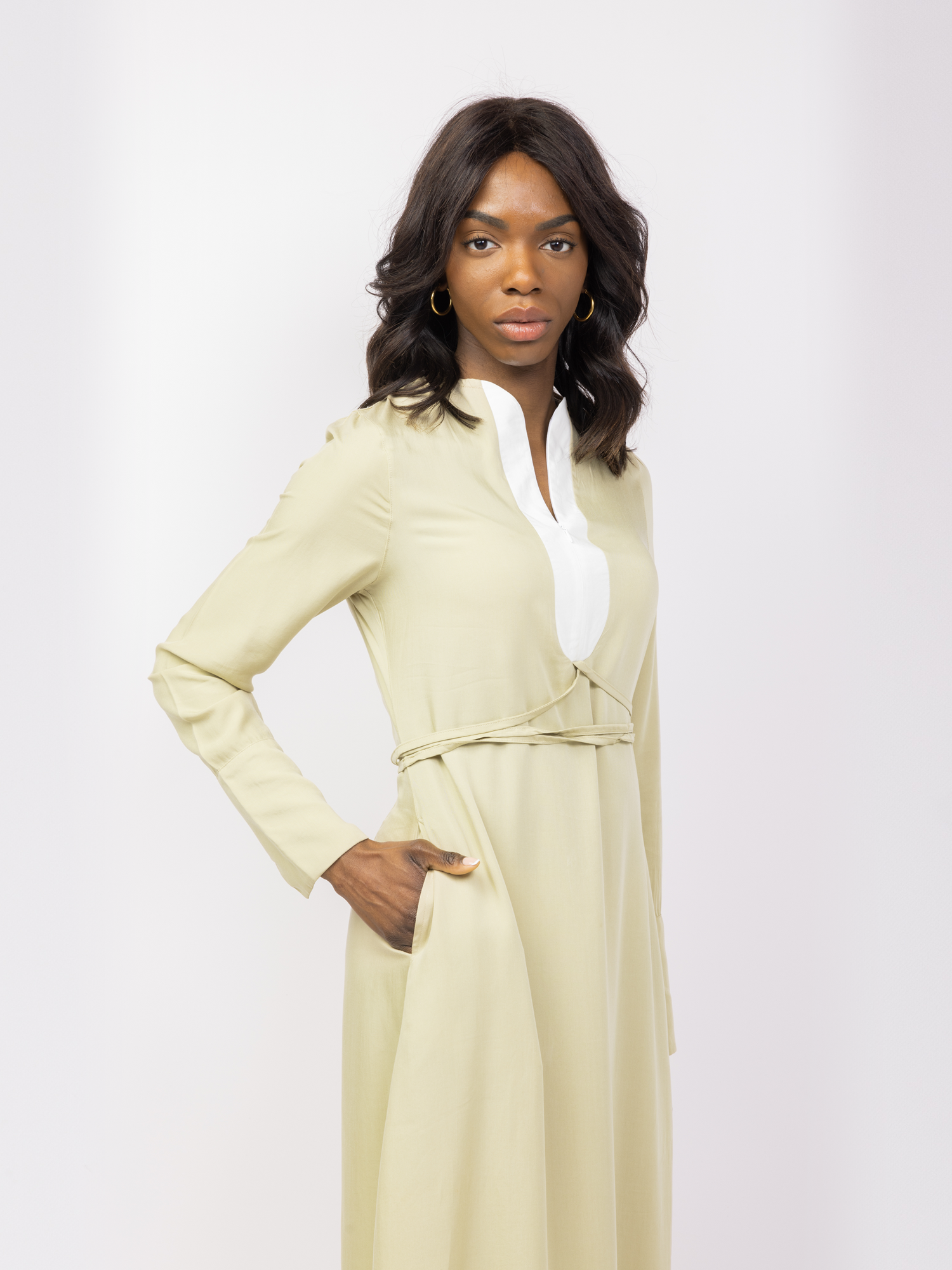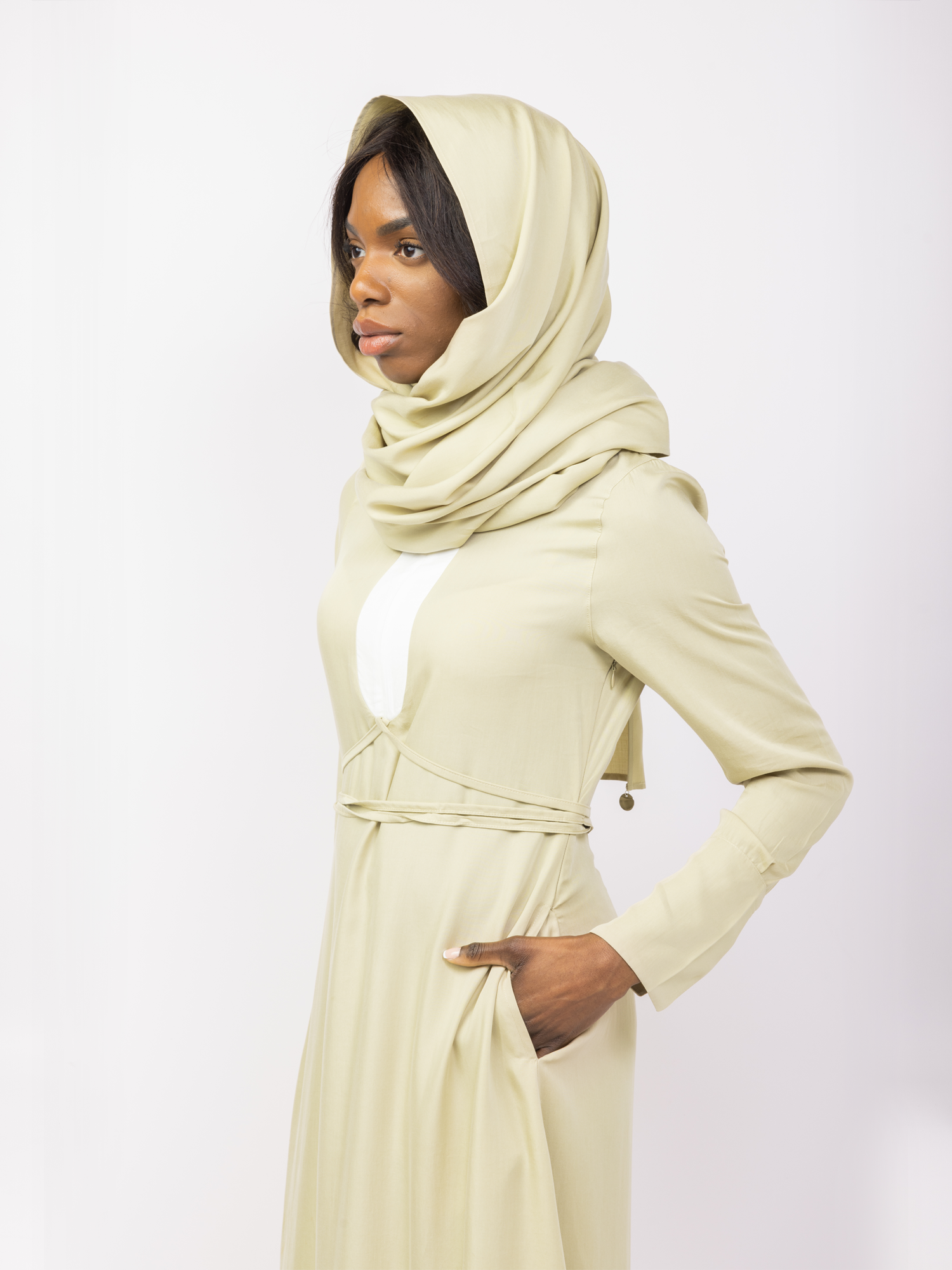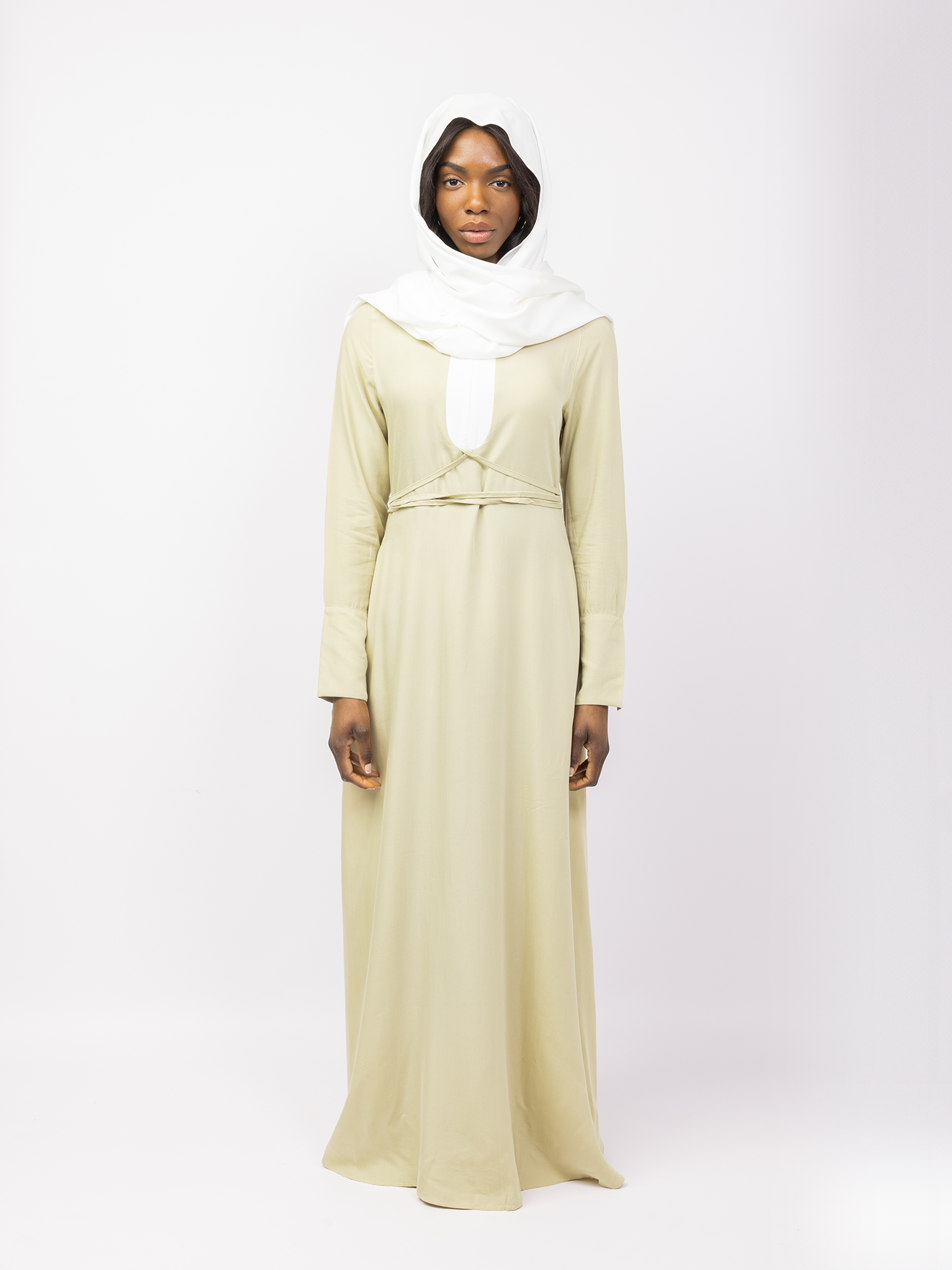 Portofino Kaftan / Abaya in Pistacchio
Description

Composition & Care

For Best Results
Handmade, sustainable, fair trade and with over 5 meters of Vylet®️ Vitamin D boosting technology.
This piece has a front zip for those who breastfeed and a side zip for easy dressing. Details include mother of pearl buttons, side pockets, and our signature cuff detail. 
Lab verified *SPF 20 with a controlled UVB transmittance, it can be worn all day with little-to-no risk of tanning underneath. 
Excellent for those looking for sun protection and vitamin D creation while avoiding plastics & creams that pollute the environment. 
This special fabric has 10x the antibacterial capacity of cotton, it is breathable, and excellent for sweat management in humid climates.
*Due to natural variations that occur in within plant fibres and the natural dyes used, an error allowance of approximately 5% is considered within normal range.
Each piece is carefully hand made with 100% Vylet® Tencel.
Please follow the cleaning instructions to ensure the filter of the fabric remains intact & Vylet® fabric keeps working for you at her full potential:
Hand Wash Cold Or At 30℃
Wash With Like Colours Only
Do Not Bleach
Do Not Tumble Dry
Do Not Use Fabric Softener
Do Not Dry Clean
Iron With Steam
Hang or Flat Dry
Use of harsh detergents, fabric softener, or tumble dryer will destroy the fabrics functionality.
*The use of a tablespoon of Citric Acid for Laundry or White Distilled Vinegar in the "fabric softener" compartment of your washer is highly recommended as it dissolves lime and calcium build up from hard water.
To learn more visit our FAQ's & Help Centre
Wearing more than 2 layers will weaken the filter; avoid excessive wrapping, or wearing of under-layers.
Use at least 2 pieces when in the sun for the best UVB absorption eg.
Scarf & Shirt (or kaftan)
Top & Trousers
The models you see in the images are all wearing skin coloured underwear. We recommend that for any white, or light coloured clothing, choose underwear that matches your skin colour for an elegant and modest result.

Lab Verified *SPF 20 with controlled UVB transmittance
FAQ
WHO IS THIS FABRIC IDEAL FOR?
Anyone who is looking to both protect their skin from sun damage while also looking for a natural way to boost their Vitamin D levels.
WHO IS THIS FABRIC NOT A GOOD FIT FOR?
Anyone who has a genetic or medical condition that prohibits Vitamin D production. Anyone looking for a "quick fix". This fabric contains no medicine and does not work overnight. Anyone that dislikes the sun and is opposed to small daily doses of sun exposure.
DO I NEED TO USE SUNSCREEN UNDERNEATH VYLET®️ CLOTHING?
If you apply sunscreen underneath Vylet®️ clothing, you will not get any benefits from its abilities. For the Portofino Collection, it is very unlikely that you will tan and almost impossible that you will burn as it only allows micro doses of UVB to pass through throughout the day.
I HAVE SENSITIVITY TO THE SUN, IS THIS FABRIC SAFE FOR ME?
If you have any pre-existing medical conditions that relate to sun exposure, please consult your doctor before using this fabric.
Shipping & Returns
WHEN WILL MY ORDER SHIP OUT?
We always do our best to process and ship your products as fast as possible, and you will be notified by e-mail as soon as your order has left our warehouse. For all orders placed, shipping will occur within 2 business days. Please note that Fi Milano is not responsible for unanticipated shipping delays incurred by the courier or by customs clearance.
DO I HAVE TO PAY FOR ANY ADDITIONAL DUTY CHARGES?
All orders within the EU are free of duty charges. Orders from outside the European Union may incur in duty charges according to local custom regulations. Please note that shipping charges do not include custom taxes or duties: these costs are the responsibility of the customer. If you have refused to accept your order upon delivery, any duties, customs and taxes levied charged by the country your order was shipped to will be deducted from your refund when the order is returned to us.
HOW TO MAKE A RETURN & RECEIVE A REFUND?
We are a small business and are doing our best to provide the best service possible. Please read over the Returns & Refunds Policy section carefully before placing your order, especially if you are ordering from outside the European Union. All eligible orders will be subject to a restocking fee and return shipping fee.